Annual Professional CEU Weekend
Date/Time
Date(s) - 06/10/2017
8:00 am - 5:00 pm
Location
Victory Addiction Recovery Center
111 Liberty Avenue
Lafayette, LA 70508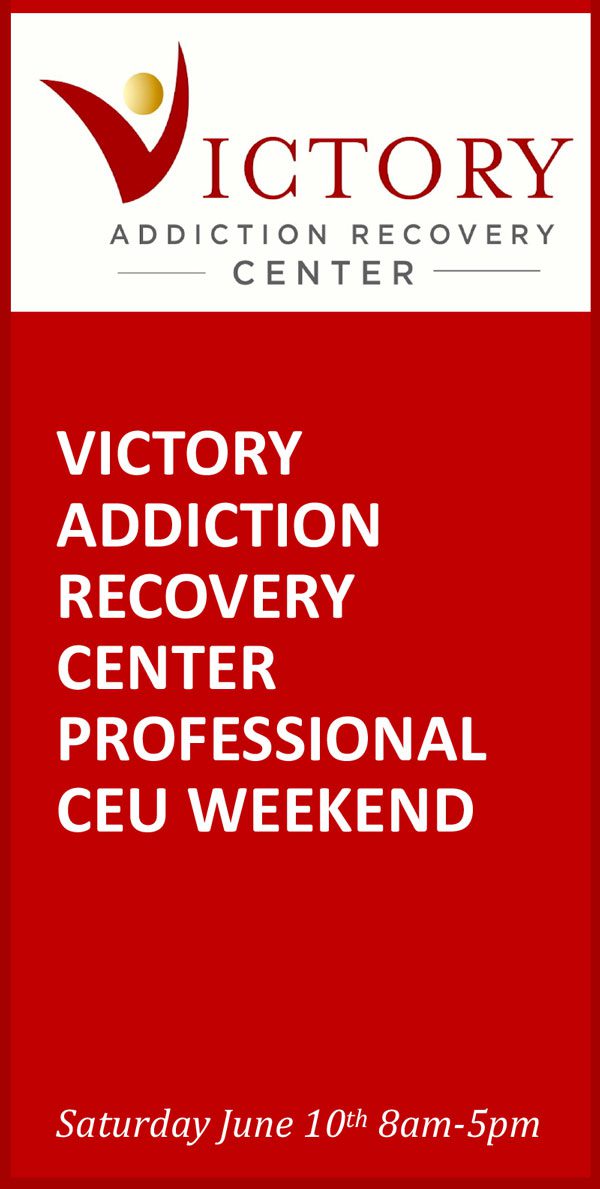 Please Join us Saturday, June 10, for this Professional CEU Training.
This offering has been approved by the Louisiana Counseling Association, The Louisiana Board of Social Work Examiners, and the Addictive Disorder Regulatory Authority of Louisiana.
Lunch, snacks, and drinks will be provided!
Please Register Below.
Event Schedule:
8 AM – 11 AM:
The Addicted Brain
Presented by Louis Cataldie, MD
Addiction is a very complex disease with many factors that can contribute to it. It disrupts and dismembers the most powerful part of the body; the brain. This presentation will bring a pragmatic approach to addiction explaining the influences and development of the addicted brain. Examining how withdrawal symptoms, along with behavioral and emotional tendencies, can show potential brain recovery. The focus will turn to how the brain can be healed and enhanced through medical and clinical treatment.
11 AM – 2 PM:
Stop the World, I Want to Get Off: Promoting Ethics in Increased Insanity
Presented by Marlene Lucas, LCSW, ACSW, BACS
A three hour seminar addressing the core value standards embraced by professional therapists throughout the profession's history which are the foundation of a clinician's unique purpose and perspective. It will identify current day challenges under which a therapist is called upon to increase due diligence to uphold their professional code and values.
2PM – 5PM:
Sex Addiction and Compulsion
Presented by Eddie Windham, LCSW
A presentation that will explore sex addiction and compulsion in its many forms. From understanding pornography addiction through statistics, research, and its effects on a patient, to establishing what traits and characteristics can attribute to it. Attendees will learn about different compulsive sexual behaviors and how the brain of an addict functions. The addiction cycle and core beliefs of addicts will be broken down as well as equipping clinicians with the ability to work with the partners of addicts.
For more details about this event and our presenters, please download the flyer.
Register Now!
Registration is now closed for this event.