Alumni

The road of recovery doesn't end upon graduation from Victory. We have an active alumni program designed to keep our graduates connected to the Victory community while continuing their education in relapse prevention, identifying triggers, and strengthening their recovery goals.
We invite you to stay connected through our alumni program, which offers the following benefits:
The Victory app: A social media app customized for Victory alumni only. It serves as a way for us to stay more connected to you and for you to stay in touch with others who have graduated from Victory. We offer resources, support, contests, and updates on all alumni events.
Events: Quarterly Social Events, an Alumni & Family BBQ, and Christmas Party.
Weekly Aftercare Meetings: these meetings are held each Tuesday from 5:30-6:30 p.m. at Victory. This is a networking and support group to share your challenges and successes in recovery.
Quarterly Newsletters: Information includes updates to programming and the Alumni Group, ways to strengthen and keep on track in recovery, and alumni spotlights that feature stories of how graduates found Victory and what their life is like now in recovery.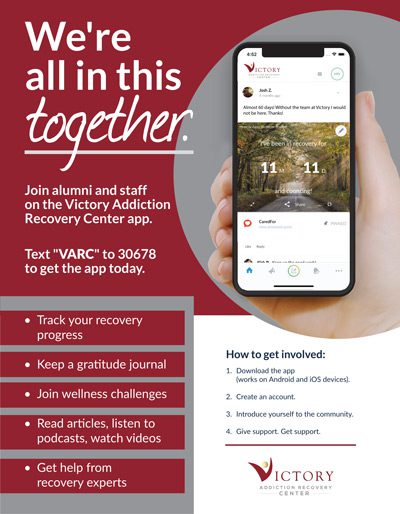 Prior to discharge, our counselors will make recommendations about aftercare options, which may include attending our outpatient program or joining our outpatient group sessions for up to twelve months post-completion. We will work with resources in your local community to connect you with AA meetings and counselors who are appropriate for follow-up care.
Click here to request an invite to our Victory App.